IB Score Reports
We produce beautiful, informative displays of IB results for schools. Send us your IB data files, and we'll transform them into intuitive and illuminating displays. Our IB Score Reports are a proven, valuable resource for coordinators, administrators, and teachers.
Now in our 12th year, we've produced reports for more than 200 schools in 60 countries.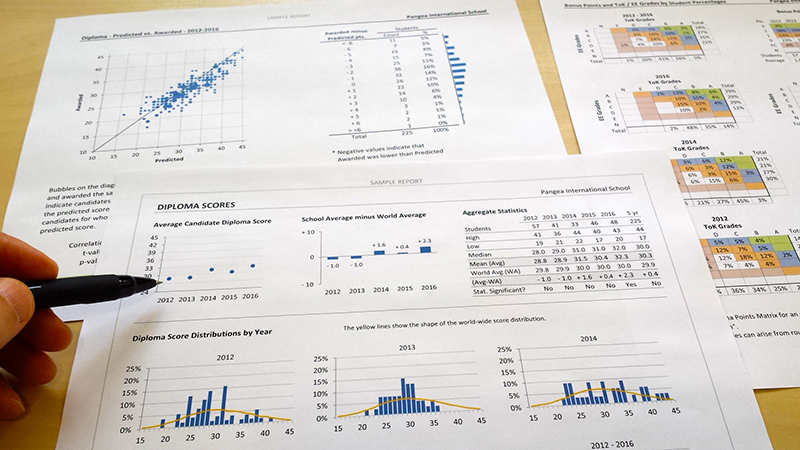 General Features and Benefits
Clean graphs and color-coded tables transform a mass of numbers into clear pictures
Five years of data on every page reveal trends
Quickly identify program strengths and weaknesses
See how your school's results compare with the world's, including statistical significance
Easily spot trends in over- or underprediction of grades and in moderation of internal assessments
View results for Diploma scores, Bonus Points, Extended Essays, TOK, Subjects, and Components
Improve Student Learning and Future Scores
Help your teachers easily see which component their students have struggled with the most
See how Extended Essay and TOK results are positively or adversely affecting Bonus Points
Discover consistent downward or upward moderation on particular Internal Assessments
Quickly identify which of your Subjects are consistently underperforming the worldwide average
See upward or downward trends in your overall Diploma Scores and individual Subjects
Help your new teachers quickly see past performance in the subjects they'll be teaching
Pricing and Samples
For pricing information and samples, click here.
Get Started Now
Getting started is easy. Just click here to send us an email: support@acadamigo.com